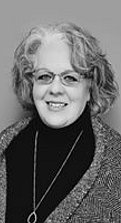 Service Exclusions: Our clinicians will respond in a timely manner to any inquiry for service. Please be aware that clients may require crisis services if they are experiencing acute psychosis or are at immediate risk of suicide or harm to themselves or others. However, we will certainly support clients to access additional supports should any of these situations come to our attention. Please be aware that crisis services are available 365 days a year, 24/7, by calling 911, Four County Crisis (1-866-995-9933) or 613-310-OPEN should you or someone you know be in crisis.
Laureen Mitchell BSW, MSW, RSW
It is with great sadness that we share the news of Transitions Co-founder/owner and Social Worker Laureen Mitchell's passing on Thursday, July 28th.
We know that Laureen has a special relationship with each and every one of her clients and that she loved and was passionate about the work she did.
At this time we encourage you to reach out to your family, friends, and other support systems.
As Laureen was not only a colleague but a dear friend to our staff, the availability of Transitions staff will be reduced over the short term as we take the time we need to grieve and begin our mourning journeys. In light of our reduced availability, we also wanted to share the following resources with you:
4 County Crisis Line - 1 -866-995-9933

310-OPEN (6736)
Kids Help Line (covers up to the age of 20 years old) 1-800-668-6868
We have included information here on Laureen's services. All will be welcome should you choose to attend.
For clients past and present, if you are comfortable doing so now or anytime in the future, we would welcome messages of appreciation for Laureen sharing the impact she made in your life. We will remove names and identifying information and share these messages with her family. Please send messages to smogden.transitions@gmail.com
We join together with you in our shared grief for the loss of Laureen, a caring, empathetic, and highly skilled healer, a wonderful colleague, dear friend, and genuine, beautiful human being. She has been taken from us all much too soon, like a dazzling shooting star, filling us all with wonder and awe for our brief time sharing in the light and love she brought to the world.
As she would want, please attend to yourselves with gentleness and care over the time ahead. We wish you comfort in this shared time of sorrow.
With love,
Transitions Counselling Services